Flying with your baby - some helpful hints
04/03/12 20:33

Here's an interview I did for Ready Steady Mums on flying with your baby for the first time..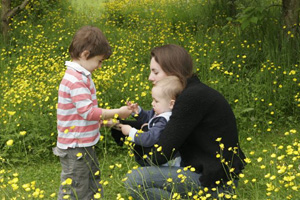 Going on holiday with your new baby is fun, relaxing and joyful... No?

I recently met with Eilish Saba, mother of 2, Oxford University graduate in Physiology, expert in caring for babies and toddlers and founder of
The Baby Care Company
. We were talking about holidays, and in particular, the challenges of taking a flight with your baby.

Many of our Ready Steady Mums members really look forward to the precious time they have to go on holiday as a family. But how can you make sure it's more fun than fuss? Here is some of Eilish's expert guidance on taking a flight with your new baby.


Q: What should we consider when planning our journey by plane?
Eilish:
Your little one will need their own passport. The application process is the same as for an adult passport but they last for 5 years. Getting the photo right when your baby isn't sleeping or crying can prove a bit of a challenge so give yourself plenty of time.

When booking your flights, give the airline your baby's details. A child under 2 will be on your knee unless you buy them a separate ticket. For longer journeys ask to book a bassinet which is a small fold down cot, for your baby to sleep in. As numbers are limited, book them as early as you can, and confirm you have one reserved just before you travel.


Q: What should we expect when going through security?
Eilish:
You'll be expected to take your baby out of the buggy, and fold up the buggy to put it through the X-ray machine.

There are still quite strict measures on taking liquids through security but check the latest guidelines before you travel as they change all the time. It's usually possible to bring breast or formula milk in 100ml quantities. You may be asked to taste your baby's milk or food to be allowed to take it through.

Just in case, bring an empty sterilised bottle in hand luggage as a spare so in an emergency you can buy pre-mixed formula on the other side of the security gates.


Q: How can we manage the stress of boarding the plane?
Eilish:
Some airlines allow parents with small children to board first. But if not, try to relax, hold back and get on the plane after the rush has died down. Older babies can get restless if they board too early and it's very difficult to get out of your seat whilst others are boarding, so it can sometimes be worth waiting to board.

It's a good idea to bring your buggy with you on your journey through the airport. Most airlines let you keep them with you until you board the plane and don't charge for it as extra luggage. You'll usually get your buggy back when you get off the plane or it'll be prioritised ahead of the suitcases on the carousel. A sling is also a good accessory to bring to keep your hands free once you get rid of the buggy.


Q: What can we do the make the flight itself easier?
Eilish:
Once you're in your seat, it's very awkward to move around, and some babies can get frustrated and upset while you wait to take off. Take off and landing can also be hard as babies can be affected by the change in pressure. Try to plan to feed your baby at this time, or use a dummy, to help with equalising. If you're breastfeeding, it's worth bringing a blanket for extra privacy and also to ask for a window seat. If you're formula feeding, pre-mixed formula is easier to use on flights, or measure out your powder beforehand.

Once you are in the air things may calm down and good preparation will help you stay in control.

Compartmentalise your bag so you don't have to root around for things if you need them in a hurry. Have some wipes, nappies and nappy bags out separately so you don't have to bring your whole bag to the toilets as there isn't much room in there. Disposable changing mats are handy as the changing tables can get quite yucky after a longer flight. Oh, and check which toilets have fold down changing tables, to save you queuing at the wrong one!

Dress your baby in layers – so you can add or remove them easily with sudden temperature changes.

Babies often sleep on flights, but if yours doesn't, taking the baby in the sling and walking up and down the aisle can help settle or entertain a baby. It's advisable to move around on longer flights anyhow to help prevent DVT.

The cabin crew are usually really helpful when you have a baby on board, so don't be afraid to ask if you need something.


Q: Do you have a check-list for "what to pack in hand luggage"?
Eilish:
As a new parent you'll be used to bringing the kitchen sink around with you! But here are the essentials.

Pre-mixed formula milk if not breast feeding.

Disposable changing mats

Nappies (lots), wipes, nappy bags

Pre-sterilised bottles (more than you think you'll need just in case you're delayed)

Some pre-boiled water (this can help sooth baby if there is turbulence and on take-off and landing)

Bibs

Muslins

More than one change of clothes for the baby

Change of clothes for you (just in case of sick or poo mess!)

Blanket (the temperature on the aircraft can change quite a lot)

Disinfectant hand gel

Plastic carrier bags (for soiled clothes or nappies)

Dummy (if your baby uses one this can help on take off and landing)

Tissues

Sling

Toys to entertain (book, cuddly toy, rattle, stickers)
Q: And what else do we need in our luggage?
Eilish:
If you're planning to hire a car at your destination, make sure you either bring a car seat with you, or hire one in advance. The quality and cleanliness of the hired seats can vary as can the position they rest in the car so bring your own if you're concerned.

Annoyingly, buggies can be thrown around quite a lot by the baggage handlers, so either take a cheaper travel buggy with you, or make sure yours is packed up carefully. You can usually buy a separate buggy cover which might be a good investment to keep your buggy protected.


Q: Brilliant, we're set for a happy flight! Where can we get more of your tips Eilish?

Eilish:
For more helpful tips on caring for your baby please follow us on Twitter:
@TheBabyCareCo
You can email me
info@thebabycarecompany.co.uk
or call me on 0207 228 1041 with any questions.

Good luck on your first flight together!